Petr Korbel won the first edition of World Minipingpong Festival in Ostrava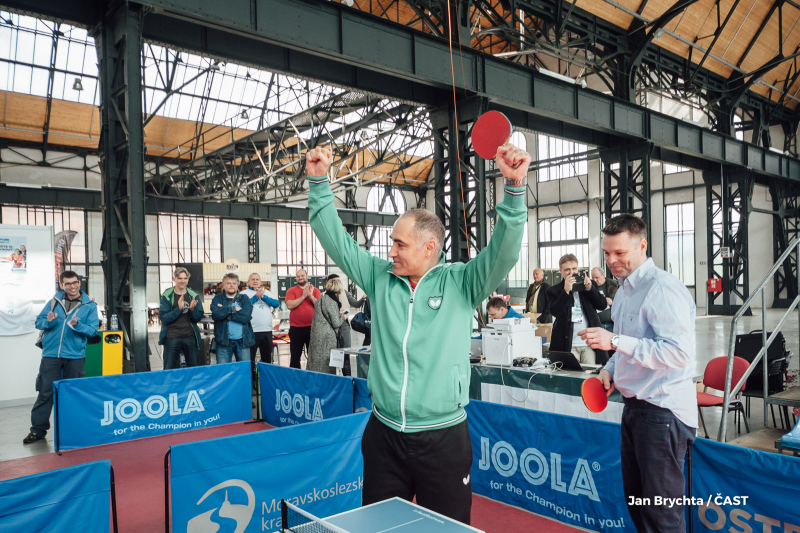 One of the festival's ambassadors Petr Korbel won the premiere edition of World Minipingpong Festival in Ostrava. Korbel defeated Josef Plachý in the final, the third place was won by Daniel Unzeitig. Adam Bakota and Pavel Klement triumphed in doubles.
Hana Matějová (despite her young age) won the price for the most succesfull woman by getting to the quarterfinals. The trophy for the best player under 18 years of age belongs to Tomáš Stempak and the winner of thursday's school tournament was Gymnázium T. G. Masaryka from Frýdlant nad Ostravicí.
The unique project of the Czech Table Tennis Association was held in an industrial building Trojhalí Karolina in Ostrava at the end of last week. About 500 people enjoyed playing table tennis in Trojhalí and during all the tournaments 664 matches has been played.
The tournament was attended by the general public as well as the professional players like ambassador of the festival Iveta Vacenoská, legendary Czech table tennis player and current national coach Jindřich Panský or Paralympic champion Ivan Karabec. 
World MiniPingPong Festival 2017
Singles: 1. Petr Korbel (TTC Ostrava), 2. Josef Plachý, 3. Daniel Unzeitig (SK Frýdlant).
Doubles: 1. Adam Bakota, Pavel Klement (SK Frýdlant n.O.), 2. Jan Broskevič, Petr Staffin (TJ Sokol Děhylov, TJ Sokol Horní Lhota), 3. Patrik Čuri, Roman Leško (neregistrovaní).
Ladies: Hanka Matějová (SK Frýdlant)
Under 18: Tomáš Stempak (TJ Sokol Hrabůvka)
Youngest player: Michael Knapp (6 year old)
Oldest player: Svatoslav Kendzior (born in 1939)