World Minipingpong Festival returns to Ostrava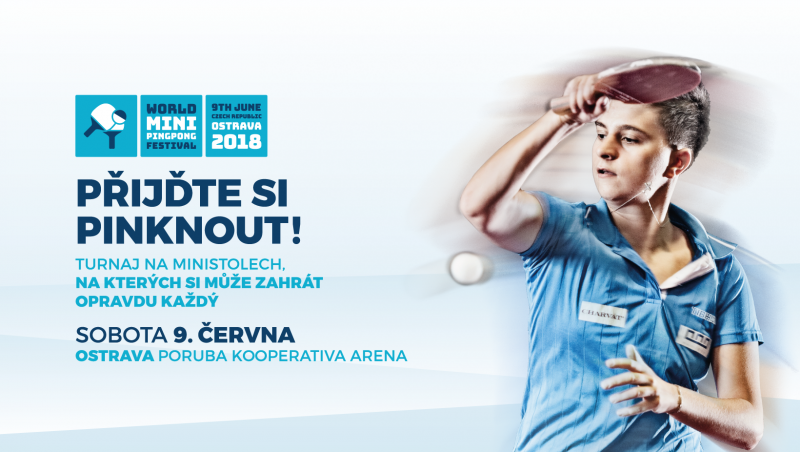 A unique sporting event The World Minipingpong Festival that brings together professionals and table tennis amateurs will take place in Ostrava for the second time.
The capital of Moravian-Silesian Region will welcome this interesting event on the 9th of June 2018.
"We held the World Minipingpong Festival in the original environment in Trojhalí last year which helped us to present table tennis in attractive background. We return to the sporting environment this year – because sport is a priority for us, the basic idea of the festival is to play on the small tables,"  says Nikolas Endal, the vice-president of Czech Table Tennis Association.
Venue for the second year of the festival will be Kooperativa Arena in Ostrava-Poruba.
"The first edition of the festival was successful; more than five hundred people came to play including all ages. I believe that number of participants will grow this year," says Endal.
Last year in Trojhalí the festival was dominated by experienced player Petr Korbel. Who will be the next winner?  The festival will take place in a new place: Kooperativa Arena was chosen by the organizers intentionally – in July 2019 the Junior European Championships, one of the biggest events in table tennis, will take place there.
"The World Minipingpong Festival will be the support event before the Junior European Championships 2019," encloses Endal.
As well as last year, players can participate in an individual tournament including professionals and registered and unregistered players. Children, youth and team categories will be played as well. The entire tournament will take place during one day – on Saturday, 9th of June 2018. Fan zone including favourite round rotating table for playing and other activities for whole family will be prepared.
Registration for the second edition of the festival has already started on the official website https://www.miniping-pong.cz/registrace/ and it will continue till 1st of June 2018. After this deadline it is possible to register directly on site before the event starts.
Registration is free for all the participants.