Hockey players invite fans to Trojhalí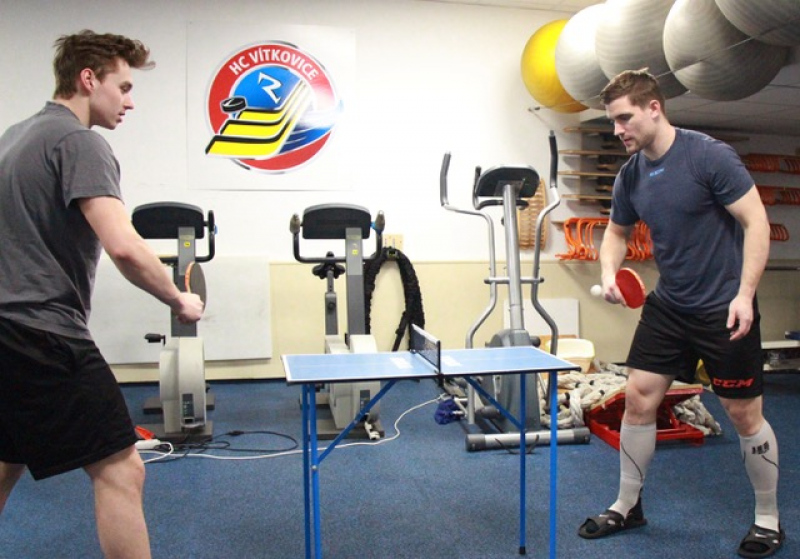 All we have done was just setting up a mini ping pong table in a gym opposite the locker rooms of the ice hockey players from HC VÍTKOVICE RIDERA and Patrik Zdráhal with Rostislav Olesz started to play immediately. Unfortunately, the hockey season for Ostravian club is already over, so players are looking forward to holiday. However, their fans can meet some of them thanks to the World Mini Ping Pong Festival in Trojhalí. They will join the major tournament on the 7th and the 8th of April and they invite fans to play with them.
"By that time I'll be abroad so I won't be able to come. But I talked to my teammates in locker room and I know that some of them will arrive to Trojhalí with all their families," says Rostislav Olesz, the captain of Vítkovice, and admits that table tennis is one of the complementary sports which belongs to the ice hockey training. "Table tennis is great for strengthening a team. We used to have table for table tennis in our locker room but some coach hasremoved it but at least junior players have tables now. Mostly we play table tennis at my place. Petr Korbel got me a table, so it's possible to play there," adds Olesz.
And who's the best table tennis player in HC VÍTKOVICE RIDERA? According to Olesz it's not easy to say. "Ranking is unstable. Karol Svoboda won one tournament and he has made player number one from himself even though he has never played more tournaments after that," laughs Olesz."So I think he's currently on fourth or fifth position. Patrik Zdráhal and Roman Šturc play excellently and so do I. Filip Šindelář played also but for Pacific division," he smiles.
He confirms that players in NHL know table tennis very well and it's popular there. "We had a table in Florida and we played there a lot. Older players such as Tomáš Vokoun or Radek Dvořák played table tennis superbly. It's similar in Tampa and other clubs."
From the first moment Olesz has liked mini tables which are mobile, space-saving and primarily it is fun to play on them. "Firstly it's hard and totally different than on a normal table. But you can get into in really fast. Now we can play really long rallies, it's challenging game. The advantage is that you can play it anywhere – in a café, a pub, an office or at home. We are really enthused by mini ping pong," ends Olesz.
The World Mini Ping Pong Festival is one of the tens, maybe hundreds of events all over the world which celebrate the World Table Tennis Day – it falls on the 6th of April. "We offer the public a unique event which has no parallel in this extentworldwide. We have arranged fan zone which is identical with that one in Rio-Lipno Olympic park, exhibition of Czech table tennis legends and a huge tournament with one hundred tables," claims Nikolas Endal, the deputy chairman of the Czech Association of Table Tennis.
"We have invited schoolchild for Thursday morningand later in the afternoon anybody can come and train. We'll open the Festival in the evening but the major tournament will take place on Friday and Saturday. That's because of the possibility that anyone who is interested could come and play – people after work, students after school, so simply everybody."
Mini tables are presented on some places in Ostrava, especially on the second floor in Forum Nová Karolina. "You don't need anything special for playing mini ping pong – we lend you paddles and balls as well," adds Nikolas Endal.
You can still register for free at www.miniping-pong.cz/en.