On the mini table you can cuddle with the ball a lot more, says Milan Orlowski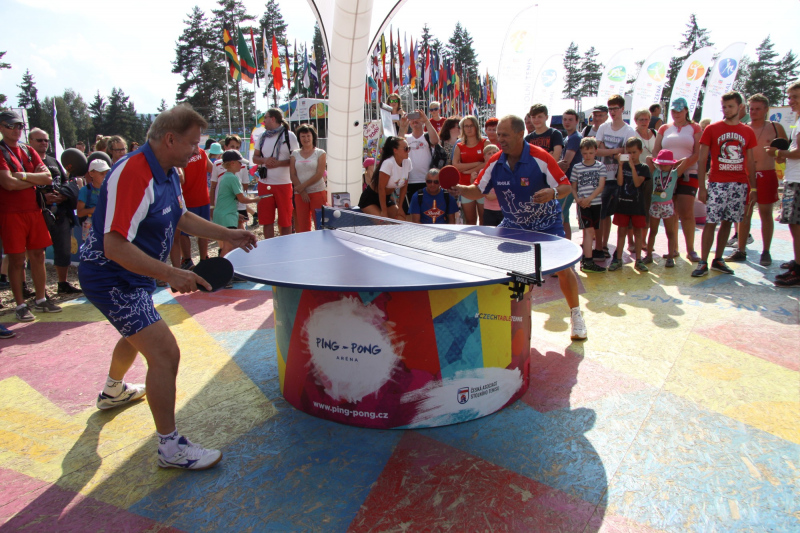 The legend of the Czech table tennis Milan Orlowski tested the match at the mini tables for example within the Riopark Lipno last year, when he stood against the president of the Czech Table Tennis Association Zbyněk Špaček. But as he himself admits, he has already tried knocking up on small tables as a young boy in school.
"Yeah, for me it is nothing new, as the school boys we used to play table tennis at the desks and we just needed textbooks or workbooks with hard plates for the game. Last summer, at Lipno, I enjoyed it tremendously because I know it's a huge fun. But it is also a good way to attract kids to table tennis," Orlowski said.
What from the repertoire of a table tennis player can be done on the small tables and what cannot?
This is really mostly about knocking up. It is impossible to play topspin on a small table, as well as combos and other things that need large table. It is however possible to cuddle with the ball a lot more, to use the sense of timing. At some point, it can be even more fun than the classic table tennis.
Especially when there are two players of different performance levels, right? How much it is actually blurring the vast differences between the amateur and the player who holds the racket in his hands every day?
As I said, it's about the feeling. And the active players have it set on a completely different dimension of the table. So for them it will be very unusual. When they play against each other, winner is the one who first adapts to it. When you are playing against amateurs who can go knock up once a week with friends, they will have to be careful. In the end, the difference should probably appear, but it will not be as big as on classic table."
What do you think, is the tournament on mini tables a good idea? Or should this remain only on the level of fun and games?
Each competitive player will be enthused by the tournament and will try to win. I am convinced. Matches will be shorter or longer, depending on the players. Personally, I think such a tournament may very well promote table tennis and then, it will have its winner, do not forget about it. Its own medalists. I would not be afraid that there will be no competitive atmosphere at the festival in Ostrava. It will be the same as at any other tournament.
Do players need to somehow prepare for the dimensions of the mini table? Or it is enough to only come and play?
It's like everything new. If you want to be good in it, you have to train. So I personally highly recommend to all who want to succeed in the tournament to not only attend of curiosity, but find somewhere a small table and train. It is however very easy, because the one meter long table can be found in almost every household. And that's enough for the training.
Do you plan with Jindřich Panský also to include some elements on the mini table in your show?
It would not be original. Small tables, maybe three different dimensions were already used thirty years ago by Jacques Secrétin and Vincent Purkart. We did not want to copy them, so we sought other tricks and jokes that the audience in Ostrava will also see at the festival.