Renáta Štrbíková knows how to play on small tables very well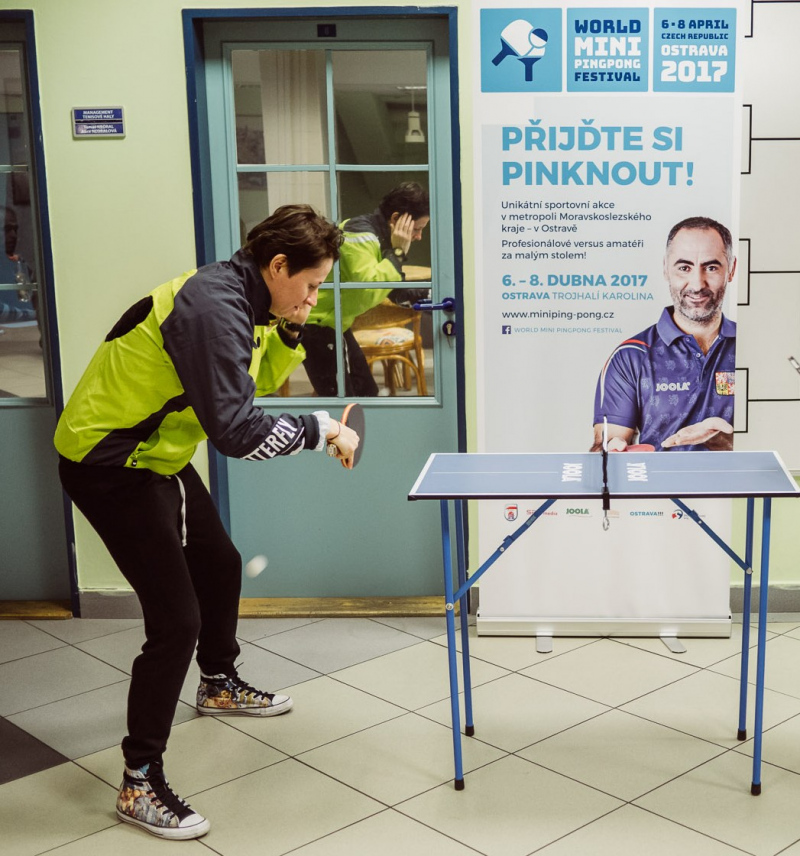 Renáta Štrbíková, seven-time national champion in singles, stands out among other players due to her sense of table tennis ball and that she often thinks up a hit which surprises her experienced opponents. Her game is not just set up on combination of precise hits which most of the players practise in their training.
"Some of the opponents can't react on my hits at all, so that's my advantage," comments Štrbíková. Thanks to it she has won two bronze medals from European Championships, she's European Champion in mixed doubles and she has played in eighth-final at World Championships.
She'll be one of the stars at the World Mini Ping Pong Festival in Ostrava which takes place from the 6th to the 8th of April. The participants of the festival will have a chance to see her on the exhibition but also they can play against her. "I know small tables very well. I have a friend who sells table tennis equipment and he also has a small table there. It often happens that I just go to say hi to him but when he's got a minute we go and play, so then I leave after an hour of playing in a sweaty T-shirt," she laughs. Obviously it wasn't necessary to persuade her to join the festival. "Mini ping pong is really catchy and fun and it doesn't matter if you can't play it or you play it for the first time – firstly you try to hit the small table, after that you want to keep playing as long as possible. And in the end you're upset that you don't have more time to continue. The tournament will be something different for sure but I think that people will love it," she adds.
She's looking forward to playing with her team-mates and opponents as well. "I used to play mixed doubles with Petr Korbel, I played some games against Marie Hrachová. But I don't remember playing against Milan Orlowski so if it is possible, I'd love to play – on small or normal table."
The exhibition of contemporary and former players will be the icing on the cake of the whole festival.
"We want to celebrate the World Day of Table Tennis which is held on the 6th of April. Also the representatives of the European and the World association of table tennis like our idea. It's a big honour for us that these associations upload an invitation to our festival on their official websites. Everyone who follows table tennis can notice that we hold this special event in Ostrava," says Nikolas Endal, the deputy-chairman of the Czech Association of Table Tennis.
To join the World Mini Ping Pong Festival is really easy – you may register at www.miniping-pong.cz/en. The entrance is for free, you can bring your own paddle and ball but you can also lend it. Everyone will enjoy this event regardless the age or skills. Workshops, fun zone for children and typical sound of ball's rebound will create once-in-a-lifetime experience in Trojhalí.